Book Reviews

Southern Silk Road
In the Footsteps of Sir Aurel Stein and Sven Hedin
by
Christoph Baumer

2000. 166 pp., 129 colour plates; 13 maps, 23 x 22.5 cm.

ISBN-10: 974-8304-39-6 Softbound: $35.00
ISBN-13: 978-974-8304-39-7
ISBN-10: 974-8304-38-8 Hardbound: $45.00
ISBN-13: 978-974-8304-38-0
Southern Silk Road
In the Footsteps of Sir Aurel Stein and Sven Hedin
Book review by Susan Dewar (Orientations, Vol 32, No. 3, March 2001.) The photographs are from the text.


Two thousand years ago, prosperous agricultural communities flourished around the oases along the southern Silk Road that skirted the Tarim Basin and the vast Taklamakan desert in China's far northwest. Today nothing remains of these ancient settlements but the stark skeletons of desiccated poplars projecting above the sands, and the wealth of archaeological material occasionally revealed by the shifting dunes. From the end of the 19th century, the mystery of these vanished civilisations drew explorers from the West to this inhospitable area, and the adventures of the Russian general Nikolay Przhevalsky, Sven Hedin Mui and Aurel Stein have now achieved almost legendary status. The publicity given in 1987 by Victor Mair to mummies of Caucasian appearance in the Urumqi Museum led to a popular revival of international archaeological interest in the region, and new theoretical constructs on the ethnicity of its early inhabitants (see Victor H. Mair. ed., The Bronze Age and Early Iron Age People of Eastern Central Asia, Washington, DC, 1998; and Elizabeth Wayland Barber. The Mummies of Urümchi, London, 1999).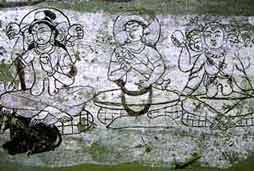 In Southern Silk Road, Christoph Baumer recounts the history of this vital Central Asian artery, from its first mention by Herodotus in the 5th century BCE, through the waves of migration from the Caucasus, Anatolia, Mongolia and Tibet to its eventual decline as a result of the isolationist policies of China's Ming dynasty rulers. Alongside war and conquest these movements introduced a plethora of cultural practices and religious beliefs—Buddhism, Nestorian Christianity. Manichaeism, Zoroastrianism, Hinduism and Islam, evidence of which can still be seen in the sculptures, wall paintings and documents found at the now-vanished oases.
During visits to several of these sites in 1994 and 1998, Baumer was able to observe the legacy of this cultural and religious melting pot in the Graeco-Buddhist stupa at Rawak, with its hundreds of life-size statues, which is believed to represent the confluence of Hinayana and Mahayana Buddhist traditions; and in the divine triads on the walls of a shrine at Dandan-oilik, perhaps representing deities of Hindu origin: Shiva and his vehicle Nandi, Hariti, the protector of children, and Brahma. Baumer cites the work of earlier visitors such as Sven Hedin in relation to the ancient settlement of this area by Indo-European populations moving from the west, and the influence of their bronze-casting technology and use of light war chariots and cavalry on subsequent developments in China. He also explores the influence of silk textiles, one of China's major exports to the West, and the attempts by the Roman senate in CE 16 to control the drain on its economic resources created by increasing demand among the fashion-conscious elite for this exotic luxury.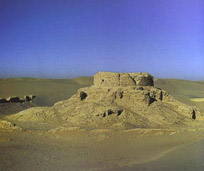 While much of the material in Southern Silk Road will already be familiar to students of Central Asian history, the inclusion of a number of Baumer's own recent photographs creates a vivid contemporary picture of the ruins that dot this desolate landscape; those of the caravanserai at Karadong, discovered by Sven Hedin in 1896, and the city and monasteries of Endere are particularly impressive. Baumer's account also attests to the destruction caused by robbers, vandals and unscientific excavations over the last century. At Dandan-oilik, for example, the statue of Vaishravana recorded in 1900 by Aurel Stein has now disappeared, and all that remains is the crumbling figure of a dwarf that once lay beneath his feet.
The most striking aspect of this region is the way in which the shifting topography has determined population movement and religious and political affiliations. This is particularly true of the Lop Nor area and the ancient garrison town of Loulan, which was abandoned as the Tarim river that fed the lake changed course and Lop Nor gradually retreated to the south.
Baumer devotes the final two chapters of his book to an examination of the controversy in the last century between Ferdinand von Richthofen and Przhevalsky over the location of Lop Nor and the resolution of the mystery by Sven Hedin, who travelled 900 kilometres by raft along the Tarim river and then on foot until he discovered both the ancient lake and the abandoned remains of Loulan. As Hedin had predicted in 1896, the Tarim river was to change its course once more, and in 1921 the lake again retreated northwards. but alas, since 1972 it has almost completely disappeared beneath the sand.
Southern Silk Road appears at an appropriate time in the history of the exploration, both archaeological and geophysical, of China's northwestern regions. During the massive programme currently under way to halt the rapid desertification of this region and the furore over the illegal recovery, and often sale, of cultural relics, Christoph Baumer reminds us that neither is a new phenomenon. The discovery of large oil reserves in the Tarim Basin and the recent construction of roads and airstrips have now also opened a new chapter in the region's history. There will undoubtedly be further major archaeological discoveries to shed light on the complex genealogical and ethnographic matrix of this region, and perhaps even a revival of the ancient Silk Road's economic and strategic importance for East-West relations.

[More Orchid Press Reviews]