Distributed E-books Available

Buddhapada:
L'odyssée des empreintes de Bouddha
Par Jacques de Guerny
Phnom Penh; édition privée
2012, 218 pp., 218 pages, 130 planches en couleurs, 9 cartes, bibliographie, index 25 x 18 cm., couverture rigide.
ISBN 978-2-9542966-0-9 (PDF e-book) $19.99
ISBN 978-2-9542966-2-3 (EPUB e-book) $19.99
ISBN 978-2-9542966-3-0 (MOBI e-book) $19.99

ISBN 978-2-9542966-1-6 (édition imprimée) $35.00
Buddhapada, à partir du sanscrit, signifie le pied ou les pieds de Bouddha et, plus strictement, tel que rapporté dans ce livre, leurs empreintes.
La raison d'être des Buddhapada est d'indiquer la présence, le souvenir, du Bienheureux mais aussi de transmettre son message, ses enseignements, au moyen de signes qui les recouvrent. Des artistes ont pu en faire de magnifiques ouvres d'art finement gravées et peintes, parfois ornées d'or ou de pierres semi-précieuses.
Pour suivre ces traces dans le temps et dans l'espace, on partira des origines, des légendes aussi bien que des faits vérifiés. On accordera également une place méritée à toutes celles et à tous ceux qui, aujourd'hui encore, affluent auprès des Buddhapada qu'ils couvrent de fleurs et de monnaies.
Humblement, car sans précèdent véritable, ce livre s'étend sur plus de deux millénaires de vie intense en Asie orientale. En contant, à la manière d'un récit de voyage, la grandiose odyssée des Buddhapada, son objectif premier est de rendre hommage à l'un des plus riches symboles de l'histoire de l'Humanité. Texte en français.

Murni's Very Personal Guide to Ubud
By Ni Wayan Murni; photographs by Jonathan Copeland
Ubud; private edition
2011, 119 pp., over 125 col. photos, 2 maps, Bibliography
EPUB e-book $2.99
MOBI e-book $2.99
PDF e-book $2.99
Ubud—situated at the very heart of the magical island of Bali—is the best known village in the best known island in the world. With origins dating back perhaps over more than a millennium, its more recent renown is as an art colony. Western artists, musicians, actors and other members of the glitterati were attracted to its many charms and began to congregate in Ubud beginning in the early twentieth century. Its evolution into the major tourist attraction that it is today is a direct result.
If Ubud is the heart of Bali, Murni is in many respects the heart of Ubud. A pioneer in the art and hospitality industries, she opened her famed restaurant, Murni's Warung, in 1974, even before electricity reached the village. Villas and houses for tourist accommodation, an art gallery and a spa followed… if anyone has the inside track on this amazing village, its Murni.
Now for the first time, Murni shares her deep knowledge of the surrounds for your guidance—from temples and palaces, ceremonies, music and dance, to art galleries, textile shops, spas and classes in whatever you want to learn and much, much more—this guide has it all.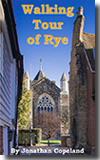 Walking Tour of Rye:
The Most Beautiful Town in England
By Jonathan Copeland
Rye; private edition
2012, over 100 col. photos
EPUB e-book $7.85
MOBI e-book $7.85
Rye is, in the minds of many, the most beautiful town in England. It could have been lifted straight out of a book of old English postcards. About 70 miles south east of London, it is on the top ten list of places visited by tourists. It is undoubtedly picturesque – standing as it does on a sandstone rock, crowned by the pointed roof of St. Mary's parish Church, covered by cobbled streets, cobbles of which must be of a similar size and colour, half-timbered houses and contrasting building styles.
The author lovingly guides the reader through these cobbled streets, introducing along the way such features as old churches and inns, venerable bookshops and ancient portals, all the while telling the history of the town, tales populated by great kings, marauding Frenchmen, pirates and foul murderers alike. An essential guide for all who are attracted to this unique town.
(One might ask "why Rye?", far as it is from the usual Asian territories of Orchid Press. In fact a large portion of the initial stock of Orchid Books shop came from an old Asian library in Rye, and two of Orchid Press' authors have or had settled in Rye – including the creator of the present work, Jonathan Copeland, also author of
Secrets of Bali
, and also the late Frederick Lees, author of
Annals of the Purple City
and
The First Lady.
)